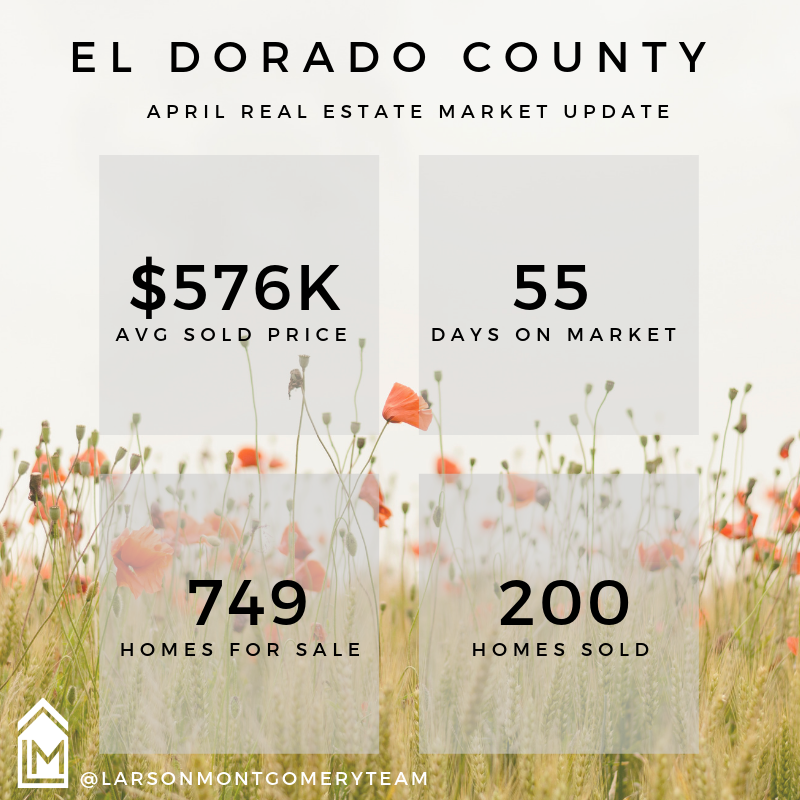 April 2019 was a HUGE month for El Dorado County! 168 more homes were For Sale than in March, a 28.9% increase. Year over year results were an even larger gap. This means for the first time in over 7 years we're seeing more inventory available. We also saw a shift in how many homes actually sold. 9 fewer homes sold in April than in March, but compared to April 2018 we are down 69 homes or -25.7%. HOWEVER, we saw a 1.6% increase in Average Sales Price over March and an 8.3% year over year price increase. So although more homes are on the market and fewer are selling, desirability to buy a home in El Dorado County is evident in the continuing upward swing of sales prices. What does all this mean? It's a fantastic time to make a move! If you are buying you can still take advantage of low mortgage interest rates and have many more homes to choose from compared to last year. If you are selling a home this year, you will make more profit than in 2018. And if you are looking to accomplish both buying and selling a home in El Dorado County you'll be able to do this smoother than before since many of our current transactions involve contingent sales.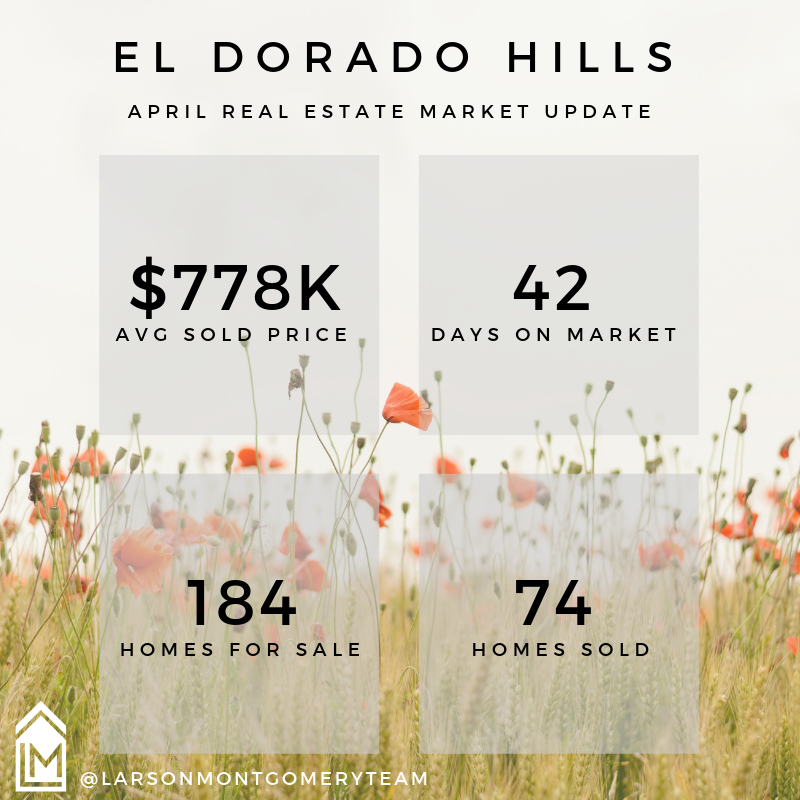 El Dorado Hills still remains one of El Dorado County's best real estate markets. Average sold home prices are up 7.8%, which means if your home was worth $722,000 in April 2018 it's now worth $778,000. Wow! Crazy what a year can do for you. 40% of the homes that were For Sale in El Dorado Hills sold last month – which is more consistent than nearly every part of El Dorado County except Cameron Park. Average days on market has stayed consistent over the last couple months and is down from the Winter high of 74 days on market. Compared to last year homes in El Dorado Hills are selling slightly slower – up 8 days from April 2018.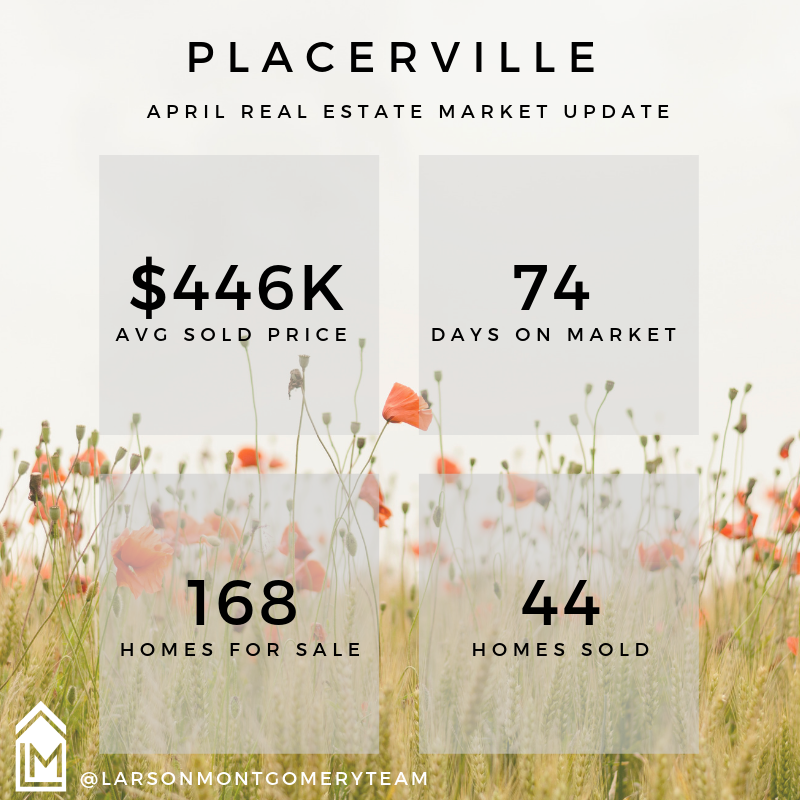 Placerville's real estate market has gone on quite the wild ride over the last 15 months. Spring of 2018 was an extremely strong Seller's market with increasing prices, relatively low days on market, and a good percentage of the homes selling. Summer 2018 saw fewer sales, home prices plateau (and even drop a little), and days on market grow. Whereas Fall and Winter 2012-2017 had been very strong markets in Placerville, we saw a shift in 2018 with far fewer homes selling than anticipated and prices staying stagnant. Why? We can't be quite sure, though we speculate that the California wild fires and a dramatic change in home owners insurance prices have affected sales. We've seen more people looking to move out of the area because their insurance company has dropped them and they need to now find a new company with a higher premium, and incoming home buyers are often shocked by the monthly cost of home owners insurance.
That being said, Spring 2019 has seen many homes come on the market and we have had a strong home buyer presence. We just aren't quite seeing the numbers we've seen the last few years. 44 homes sold in April 2019 compared to 55 in April 2018, even though we had 48 more homes on the market. Average price sold is actually down almost $30,000 from last year – which really effects the higher price ranges more than the lower price ranges. Days on market is also considerably higher than last Spring, though this is due to homes that came on the market in Winter and finally sold in the Spring, more than new homes for sale taking a long time to sell.
All this equates to if you are looking to sell your home in Placerville, pricing correctly, condition of the home, and having outstanding marketing are extremely important in order to stand out and sell quicker and for more money.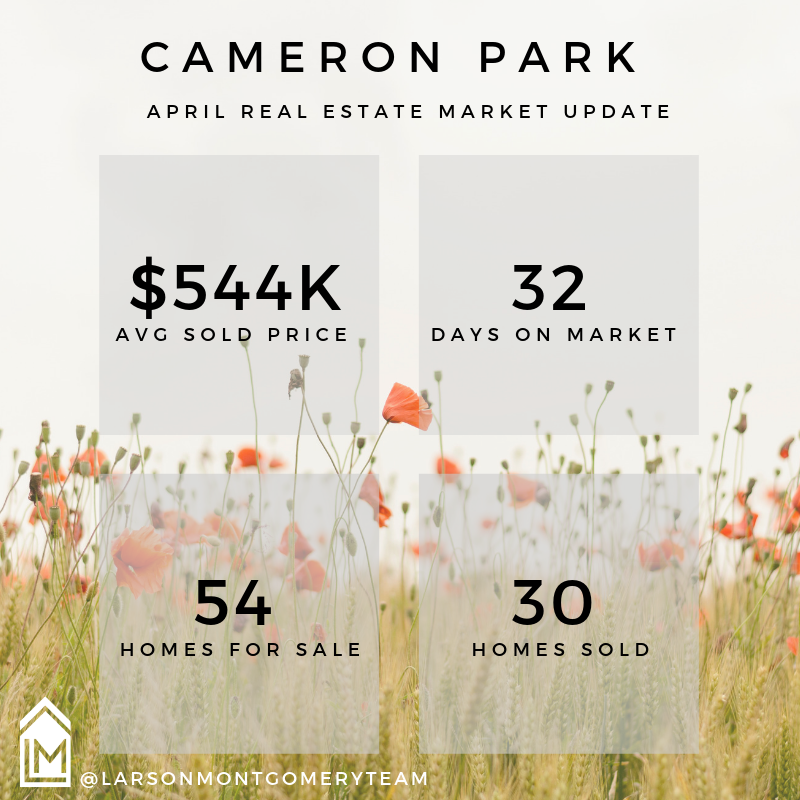 The other shining star of El Dorado County's real estate market is Cameron Park! This Spring has been a mirror of Spring 2018 with basically the same amount of homes for sale and sold as last year. Prices have continued to rise – 4.6% since last April. We had a slower market over the Winter but homes are selling pretty quickly now with 32 days on market being average. Overall, Cameron Park has remained a strong seller's market.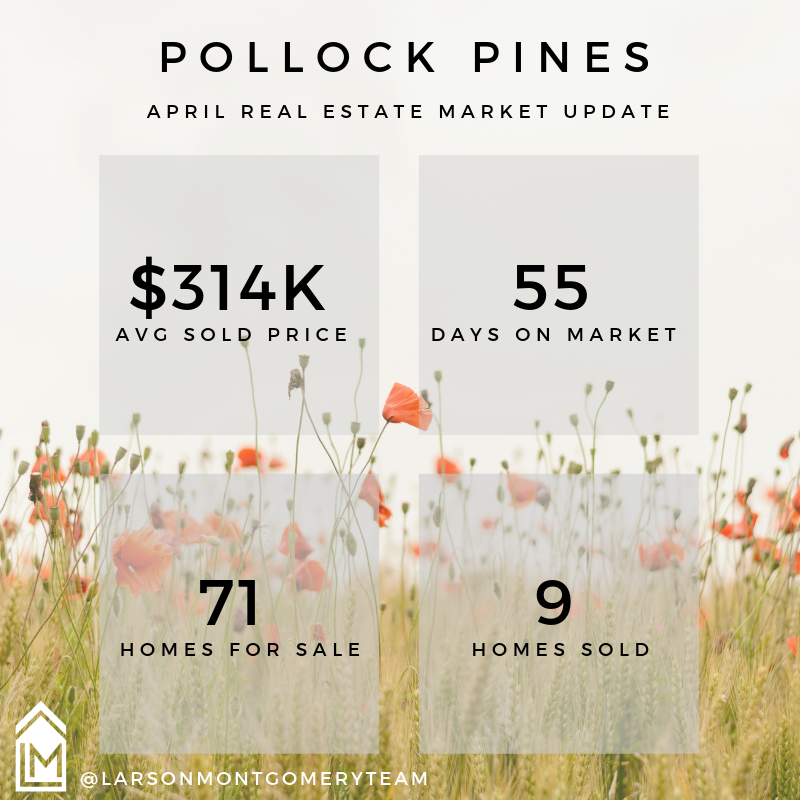 Drastic weather and fire insurance has really shifted the Pollock Pines market over the last year. April 2019 had nearly double the homes for sale as the previous year and fewer than half the number of solds. Hopefully though, the market will catch up to itself over the Summer as it did last year. Typically we've seen sales really increase in June through October, so it'll be interesting to see if this is the case this year.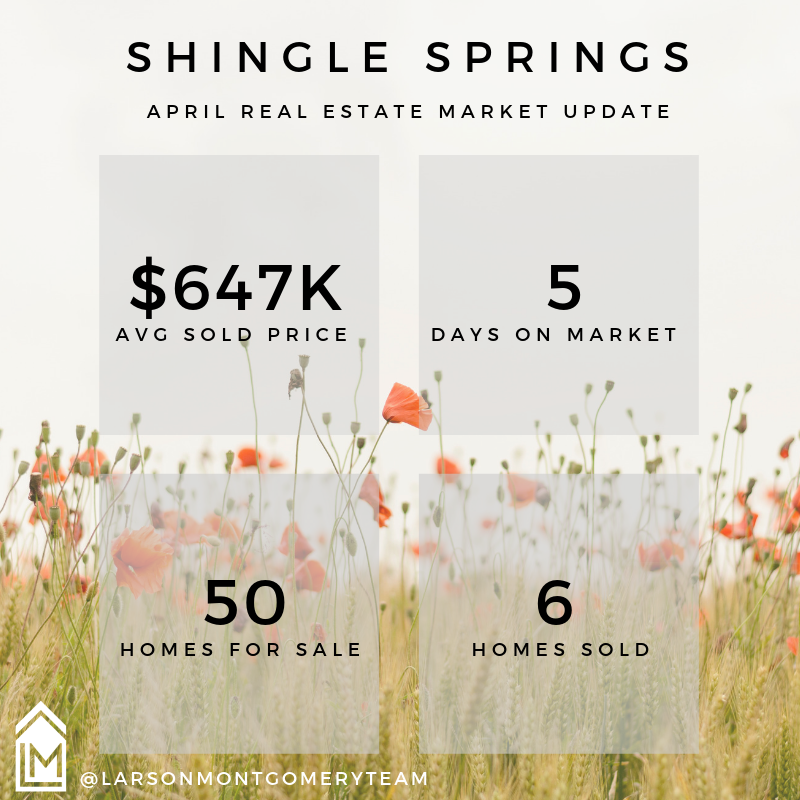 Shingle Springs has it's own complicated micro-climate of a real estate market. Typically we've seen between 9-13 home sales per month regardless of the season, with the occasional low month (like this April). That means that somewhere between 1 and 3, or 1 and 6 homes actually sells that is listed for sale. So why does this remain so consistent regardless of season or other outside influences? Our suspicion is because the difference between the Average For Sale price and Average Sold price is a greater percentage than anywhere else in the county. IE there are many luxury properties in Shingle Springs for sale above $900,000 but people looking to purchase a home in Shingle Springs are typically looking to spend between $600-800k. This means that if you are looking to sell your luxury estate it may take far longer than a home listed for $650,000 in Shingle Springs.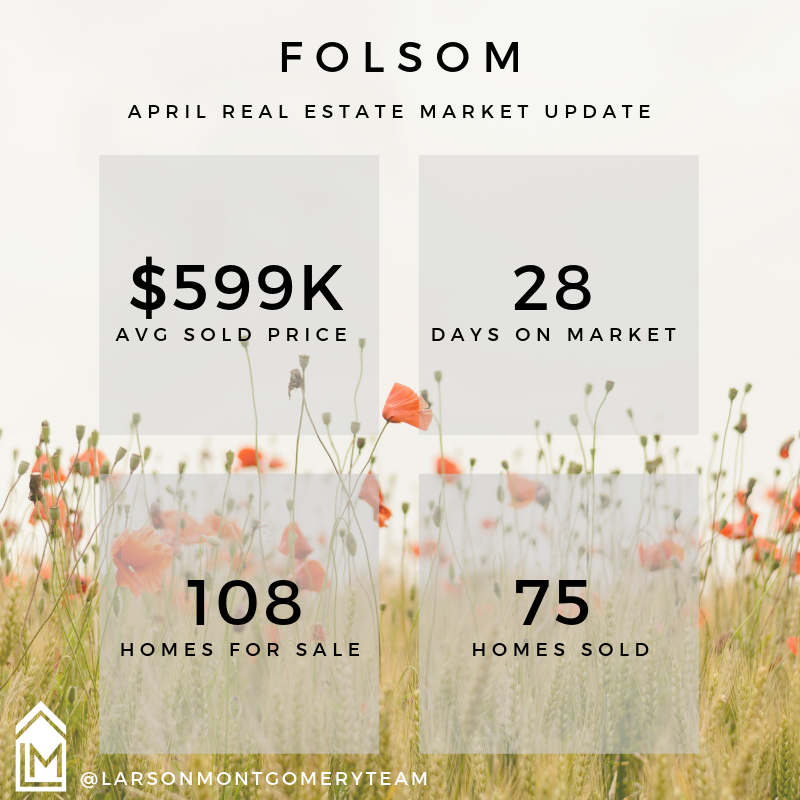 We know Folsom isn't part of El Dorado County 🙂 But so many of our clients live in, want to live, or want to know about Folsom, we've included it! It's remained a strong Seller's Market in Folsom with low inventory and high buyer demand at all price ranges. Prices have remained stagnant for over a year now, with both average sales price and average price per square foot hovering in the same zone and not changing significantly from month-to-month, season-to-season, or year-over-year. Days on market has shifted slightly. It's taking about a week longer to sell a home in 2019 than in 2018. Overall, a strong real estate market where you can expect to sell quickly or be competing with other home buyers if you are purchasing.
If you are looking to gain more insight into how the market effects your home sale or purchase, give us a call at 530-350-6335 and we'd be happy to discuss your unique situation – free of charge and obligation. 🙂